This is a list of historical figures that chose The Holy Book of Mormon over the teachings of Joseph Smith and the Doctrine & Covenants.
Three Witnesses
Martin Harris
Oliver Cowdery
David Whitmer
Eight Witnesses
Christian Whitmer
Jacob Whitmer
Peter Whitmer Jr.
John Whitmer
Hiram Page
Other Notable Witnesses
Elizabeth Ann Whitmer
Emma Smith
Lucy Smith
Josiah Stoal-Stowell (1770 – 1844)
Josiah Stowell (Stoal) had employed Joseph to look for treasure. He was the first to see the plates once retrieved from the Hill Cumorah.
In the year 1825 we often saw in that quiet hamlet, Joseph Smith, Jr., the author of the Golden Bible, or the Books of Mormon. He was an inmate of the family of Deacon Isaiah [Josiah] Stowell, who resided some two miles below the village, on the Susquehanna. Mr. Stowell was a man of much force of character, of indomitable will, and well fitted as a pioneer in the unbroken wilderness that this country possessed at the close of the last century. He was one of the Vermont sufferers, who for defective titles, consequent on the forming a new State from a part of Massachusetts, in 1791, received wild lands in Bainbridge. He had been educated in the spirit of orthodox puritanism, and was officially connected with the first Presbyterian church of the town, organized by Rev. Mr. Chapin. He was a very industrious, exemplary man, and by severe labor and frugality had acquired surroundings that excited the envy of many of his less fortunate neighbors. He had at this time grown up sons and daughters to share his prosperity and the honors of his name. (W. D. Purple, "JOSEPH SMITH, the Originator of Mormonism, Historical Reminiscences of the Town of Alton," Norwich: Chenango Union, May 3, 1877)

He says he has never staggered at the foundation of the work, for he knew too much concerning it. If I understood him right he was the first person that took the plates out of your hands the morning you brought them in, and he observed, Blessed is he that sees and believeth, and more blessed is he that believeth without seeing, and he says he has seen and believeth. (Letter written December 19, 1843 by Mrs. Martha Campbell at the request of Josiah Stoal at whose home he was then residing to Joseph Smith at Nauvoo. Original letter in the Church Historian's Office; B. H. Roberts published an excerpt from the letter in his Comprehensive History of the Church of Jesus Christ of Latter-day Saints, Salt Lake City: Deseret News Press, 1930, I, 98.)
John Corrill (1794 – 1842)
John Corrill was born in Worcester County, Massachusetts, September 17, 1794. He encountered Oliver Cowdery in Ohio in the fall of 1830 and was baptized into the Church the following January. On June 3, 1831, he was ordained an assistant to Bishop Edward Partridge, a position he held until November 7, 1837. In 1838 he was elected to the Missouri state legislature from Caldwell County. That fall Corrill began to distance himself from the Church leaders, and in November he testified for the state at Joseph Smith's trial before Austin A. King. The following March he was excommunicated. He died in Quincy, Illinois, September 6, 1843. Yet his book A brief History of the Church of Christ of Latter Day Saints (Commonly Called Mormons) Including an Account of Their Doctrine and Discipline; with the Reasons of the Author for Leaving the Church (St. Louis, 1839) was inoffensive enough for The Prophet to advertise it for much of its run.(Excerpted and edited from Peter Crawley, A Descriptive Bibliography of the Mormon Church, vol. 1, 1830-1847, BYU, Religious Studies Center, 1997, no. 10, pp. 42-43.)
Brief History of the Church of Christ of Latter Day Saints 1839
The first claimed history of the church was written by John Corrill. He had been a counselor to the first Bishop of the Church, Edward Partridge…Like other early converts, who returned to their homes to avoid the severe persecutions and sufferings of the Saints in Missouri and Illinois, he did not deny the divine origin of the Book of Mormon, concerning which he had made careful investigation. After the death of the Prophet, several groups refused to accept the leadership of Brigham Young, but not one denied the divine origin of the Book of Mormon. (Francis W. Kirkham, A New Witness for Christ in America, Attempts to Prove the Book of Mormon Man-Made, Independence, MO: Press of Zion's Printing and Publishing Co., 1951, Vol. 2, p. 330)

In the course of two or three days, the book of Mormon, (the Golden Bible, as the people then termed it, on account of its having been translated from the Golden plates,) was presented to me for perusal. I looked at it, examined the testimony of the witnesses at the last end of it, read promiscuously a few pages, and made up my mind that it was published for speculation. In my feelings and remarks I branded the "messengers" with the title of impostors, and thought I would not trouble myself any more about them. (Corrill, p. 4. Page numbering follows that of Google books:

The next day, I started home with my heart full of serious reflections. I thought of Solomon's words, —"that he is a fool who judges a matter before he hears it;" that perhaps it might be well enough to investigate the matter; investigation could certainly do me no harm. The ancients rejected the prophets and apostles through a hasty spirit, and the people of Borea were said to be more noble than the people of Thesalonica, because they "searched the scriptures daily, whether these things were so. Therefore many of them believed." — Acts, xvii. Now, it is not impossible, thought I, but that ere I am aware of it, I may be found fighting against God; perhaps I had better stop and reflect on the subject a little; weigh the matter more closely, and compare this new doctrine with the Scriptures; and if it does not agree with the Scriptures, I shall certainly know that it is not of God.Two or three weeks were spent in reading the Book of Mormon, comparing it with the scriptures, and in reflecting and conversing with others upon the subject. Scarcely a day passed but I heard of some evil report against the new sect. These reports I need not relate. Suffice it to say, that every thing bad was reported against them, as I thought, that could be invented by man. I was always careful, however, to inquire after the author, and the truth or ground-work of his statement, and always found these reports to be without foundation. (p. 5)

The Book of Mormon and its origin.

This was the first production of Smith after his call to the prophetic office. As to the origin of the book, I made very diligent inquiry, and from all I could learn, I became satisfied that Smith was the author, and I never have been able to trace it to any other source. As to its being a revelation from God, eleven persons besides Smith bore positive testimony of its truth. After getting acquainted with them, I was unable to impeach their testimony, and consequently thought that it was as consistent to give credit to them as to credit the writings of the New Testament, when I had never seen the authors nor the original copy. As the Bible, (although we see it bound in one volume) was made up of many detached parts of revelation given from time to time, as God saw proper, through the space of four thousand years, for the special benefit of those to whom it was given, I thought it was no more than reasonable that we should also receive additional revelation for our special benefit; for this was according to his promise, to give line upon line, precept upon precept here a little and there a little. — (Isa. xxviii. 9, 10.) (pp. 7-8)

I found that the Book of Mormon taught all the morality, piety, virtue, honesty, righteousness and Godliness that the Bible did, and even condemned the whoredoms of David, Solomon and others, and strictly enjoined family and secret prayer, and too, in great faith, that our prayers may be answered; and, in order to be admitted into the Church a person must manifest faith in Christ, and a hearty repentance of their sins. Baptism, by immersion, they believed was for the remission of sins; and the laying on of hands for the gift of the Holy Ghost, they think will be attended with signs following, just in proportion to the faith and righteousness of the believer. (p. 12)

They, therefore, entered into a covenant (Danites), that the word of the Presidency should be obeyed, and none should be suffered to raise his hand or voice against it; for, as they stood at the head of the Church, it was considered no more than reasonable that they knew more of the will of God than any others did; consequently, all things must be in submission to them, and moreover, all tattling, lying, and backbiting must be put down, and he that would not submit willingly should be forced to it, or leave the county. Now this secret combination was directly opposed to the former revelation, and especially the Book of Mormon, which declared that God worketh not in secret, and all such as did should be destroyed. Many were opposed to this society, but such was their determination and also their threatenings against them, that those opposed dare not speak their minds on the subject. (p. 27)

I have left you, not because I disbelieve the Bible, for I believe in God, the Saviour, and religion the same as ever; but when I retrace our track, and view the doings of the Church for six years past, I can see nothing that convinces me that God has been our leader; calculation after calculation has failed, and plan after plan has been overthrown, and our Prophet seemed not to know the event till too late. If he said go up and prosper, still we did not prosper; but have labored and toiled, and waded through trials, difficulties, and temptations, of various kinds, in hope of deliverance. But no deliverance came. The promises failed, and time after time we have been disappointed; and still were commanded, in the most rigid manner, to follow him, which the Church did, until many were led into the commission of crime; have been apprehended and broken down by their opponents, and many have been obliged to abandon their country, their families, and all they possessed, and great affliction has been brought upon the whole Church. What shall we say to these things? Did not your prophet proclaim in your ears that the day was your own, and you should overcome; when in less than a week you were all made prisoners of war, and you would have been exterminated, had it not been for the exertions and influence of a few dissenters, and the humane and manly spirit of a certain officer?

But where now may you look for deliverance? You may say, in God; but I say, in the exercise of common sense and that sound reason with which God has endowed you; and my advice is to follow that, in preference to those pretended visions and revelations which have served no better purpose than to increase your trouble, and which would bind you, soul and body, under the most intolerable yoke. (p. 44)
William Law (1809-1892)
William Law is more misunderstood than John Corrill and David Whitmer.
The mere mention of his name is enough to send chills down the spine of most church members. Law is attributed with the cause of the deaths of Joseph and Hyrum.
Although now seldom recognized as being anything more than a bitter apostate. (Lyndon W. Cook, "Brother Joseph Is Truly A Wonderful Man, He Is All We Could Wish a Prophet to Be": Pre-1844 Letters of William Law, BYU Studies, vol. 20 (1979-1980) Number 2 – Winter 1980, p. 207)
The truth is, Law was a wealthy Irishman who joined the Latter-day Saints in Nauvoo from Canada. He and his elder brother Wilson migrated with their families and other church members in a wagon train.
In Nauvoo Law was counseled by Joseph to invest in land, which he did so by buying from the church, i.e. Joseph. This pitted the two largest land owners against one another. Joseph trumped Law by issuing a decree that church members must only buy land from the church, i.e. Joseph. Law lost, he could not sell his land nor recoup his investment.
Law was counselor to Joseph in the First Presidency for a couple of years, even publicly defending Joseph character. During that time Law became privy to some of the inner workings of the church, but not all. What he did see though bothered him tremendously. For example, he saw Joseph promise a prominent lawyer/politician (Cyrus Walker of McDonough County, Illinois. A Whig candidate for the United States House of Representatives) that he would swing church votes his way in lieu of legal help. Joseph received the legal help, but reneged on his promise and swung the vote of the members for Joseph P. Hoge.
At one point Joseph approached Law's wife about sharing herself with him which so offended Law that Hyrum had to reveal the concealed D&C 132 revelation with him. That revelation was the biggest let down for the Laws. Now they knew the rumors were true and Law looked the fool for having previously defended Joseph publicly against such charges. Law did what any honest person would do – he spoke out:
Law tried to get Joseph and Hyrum to abandon this practice but they refused. Law therefore began the " Reformed Mormon Church" as his alternative. This was the first use of the word "reformed" among Mormons.
We have received from Nauvoo a Prospectus for a new paper, to be entitled the "Nauvoo Expositor." It is intended to be the organ of the Reformed Mormon Church, which has lately been organized in that place, and to oppose the power of 'the self-constituted Monarch,' who has assumed the government of the Holy City.(Upper Mississippian as cited in the Nauvoo Expositor)

The principals claimed to believe in the Book of Mormon and the restoration of the gospel, but rejected what they termed Nauvoo innovations, notably plural marriage. Claiming that Joseph was a fallen prophet, the dissenters set out, through the Expositor, to expose the Prophet's supposed false teachings and abominations. (Durham, Reed C., Jr., Encyclopedia of Mormonism, p. 996)

As Cook points out, William Law, although an endowed member of the "Anointed Quorum," was unaware for some time that Joseph Smith and others had been sealed to additional wives. (Lyndon W. Cook. William Law: Biographical Essay, Nauvoo Diary, Correspondence, Interview, Grandin Book, 1994, reviewed by Scott H. Faulring in BYU Studies, vol. 34 (1994), Number 4–1994-95, pp. 23-24.)

I (William Law) told him that if they wanted peace they could have it on the following conditions, That Joseph Smith would acknowledge publicly that he had taught and practiced the doctrine of plurality of wives, that he brought a revelation supporting the doctrine, and that he should own the whole system (revelation and all) to be from Hell. (Diary of William Law, 13 May 1844 cited in "William Law, Nauvoo Dissenter" by Lyndon W. Cook, BYU Studies, vol. 22 (1982), Number 1 – Fall 1982, p. 68)
Law was not alone in his outrage:
Forasmuch as the public mind hath been much agitated by a course of procedure in the Church of Jesus Christ of Latter Day Saints, by a number of persons declaring aginst certain doctrines and practices therein, (among whom I am One,) it is but meet that I should give my reasons, at least in part, as a cause that hath led me to declare myself. In the latter part of the summer, 1843, the Patriarch, Hyrum Smith, did in the High Council, of which I was a member, introduce what he said was a revelation given through the Prophet; that the said Hyrum Smith did essay to read the said revealtion in the said Council, that according to his reading there was contained the following doctrines; lst the sealing up of persons to eternal life, against all sins, save that of sheding innocent blood or of consenting thereto; 2nd, the doctrine of a plurality of wives, or marrying virgins; that "David and Solomon had many wives, yet in this they sinned not save in the matter of Uriah. This revelation with other evidence, that the aforesaid heresies were taught and practiced in the Church; determined me to leave the office of first counsellor to the president of the Church at Nauvoo, inasmuch as I dared not teach or administer such laws. And further deponent saith not.
AUSTIN COWLES. (Nauvoo Expositor)
William's son (a judge) gave the following testimony:
Mr. Law has related to me, and to others, the following circumstance:

"About the year 1842, he was present at an interview between his father and the Prophet Joseph. The topic under discussion was the doctrine of plural marriage. William Law, with his arms around the neck of the Prophet, was pleading with him to withdraw the doctrine of plural marriage, which he had at that time commenced to teach to some of the brethren, Mr. Law predicting that if Joseph would abandon the doctrine, 'Mormonism' would, in fifty or one hundred years, dominate the Christian world. Mr. Law pleaded for this with Joseph with tears streaming from his eyes. The Prophet was also in tears, but he informed the gentleman that he could not withdraw the doctrine, for God had commanded him to teach it, and condemnation would come upon him if he was not obedient to the commandment.

"During the discussion, Joseph was deeply affected. Mr. Richard S. Law says the interview was a most touching one, and was riveted upon his mind in a manner that has kept it fresh and distinct in his memory, as if it had occurred but yesterday.

"Mr. Law also says, that he has no doubt that Joseph believed he had received the doctrine of plural marriage from the Lord. The Prophet's manner being exceedingly earnest, so much so, that Mr. Law was convinced that the Prophet was perfectly sincere in his declaration.

"The gentleman says his father believed that Joseph had become possessed of an evil spirit and had been deceived. He also claims that the foundation for his father's disaffection, and final withdrawal from the Church, was owing to the teaching of plural marriage to him by the Prophet Joseph Smith. He declares further that his mother was taught the same doctrine by the 'Mormon' Prophet.

"Mr. Law speaks in high terms of Joseph Smith, and says he was one of the most lovable men in his disposition and temperament he had ever met. While speaking with the utmost respect and affection of the Prophet Joseph as a man, he has no faith whatever in the Gospel as revealed through him in this dispensation."

The matter herein presented was read to Mr. Law in the presence of two witnesses, and he acknowledged the same to be correct. ("Mr. Law's Testimony," Improvement Era, 1903, Vol. Vi. May, 1903. No. 7.)
When viewed under the light of truth, one can objectively see that Law exhibited courage and dealt with the improprieties honorably. Like David Whitmer, William Law went on to live a long happy life in service to his fellowman despite Joseph's curses:
 

Regionally acknowledged as a competent physician and surgeon, Dr. Law practiced nearly forty years near Apple River, Illinois, and at Shullsburg, Wisconsin. He died of pneumonia at the age of eighty-two.

fn. William Law, nevertheless, was a prominent and respected citizen in his community. In later years he served as one of five directors of the Shullsburg Bank. (Ibid.)
Mormon historians perpetuate this instead:
Full of bitterness and hatred to the end of his life, William Law died in Shullsburg, Wisconsin, 19 January 1892, at age eighty-two. (Lawrence R. Flake, Prophets and Apostles of the Last Dispensation (Provo, UT: Religious Studies Center, Brigham Young University, 2001), 243-45.)
Resources
Lyndon W. Cook, "William Law, Nauvoo Dissenter," BYU Studies, vol. 22, (Winter, 1982) no. 1, pp. 47-72
Lyndon W. Cook, "Brother Joseph Is Truly A Wonderful Man, He Is All We Could Wish a Prophet to Be': Pre-1844 Letters of William Law," BYU Studies vol. 20, (Summer, 1980), pp. 217-18
Lyndon W. Cook, ed., William Law: Biographical Essay, Nauvoo Diary, Correspondence, Interview, Orem, UT: Grandin Book Co., 1994
Lyndon W. Cook. William Law: Biographical Essay, Nauvoo Diary, Correspondence, Interview, Grandin Book, 1994, reviewed by Scott H. Faulring in BYU Studies, vol. 34 (1994), no. 4, pp. 23-24
"THE MORMONS IN NAUVOO, Three Letters from William Law on Mormonism, AN HONEST MAN'S VIEW AND REMORSE," The Daily Tribune, Salt Lake City, July 3, 1887
Dr. W. Wyl (Wilhelm Ritter von Wymetal) interview with William Law in Shullsburg, Wisconsin, 30 March 1887, published in The Daily Tribune, Salt Lake City, 31 July 1887
Richard S. Law (son of William Law) Interview by Joseph W. McMurrin: "An Interesting Testimony by Elder Joseph W. McMurrin, One of the First Seven Presidents of the Seventy" & "Mr. Law's Testimony," Improvement Era, vol. VI, no. 7, (May 1903) pp. 508-09
William Law, "Much Ado About Nothing," Times and Seasons, July 1, 1842
Nauvoo Day Book of William Law
Lyndon W. Cook, The Gospel According to William (forth coming book?)
Steven L. Shields, Divergent Paths of the Restoration, 1990, pp. 29-30
John Frederick Glaser, "The Disaffection of William Law," Restoration Studies, III, ed. Maurice L. Draper and Debra Combs, Herald Publishing House, 1986, pp. 163-175
William E. McLellin (1806 – 1883)
[McLellin also has a section under the Semi-Reformed chapter]
William E. McLellin was an early apostle who left Joseph's church and was later excommunicated. McLellin continued to believe in The Most Holy & Sacred Book of Mormon. There are three separate jounal publications of his listed below. He also published a circular in 1847 called the Ensign of Liberty that was similar to the writings of David Whitmer.
George D. Smith, Signature Books Introduction
William Earl McLellin's writings document aspects of a community of believers that coalesced around Joseph Smith in nineteenth-century America, showing the church's place in its historical context. McLellin's notebooks and letters portray the Mormons from their inception in the 1830s up to the 1880s when they began to evolve from a mystical Christian offshoot into a modern world church. In the twenty-first century, his perspective provides a marker for comparing that bygone spiritualist movement with a church much less isolated from competing faith ideas and society's widespread skepticism.

McLellin's name became prominent in 1983-86 through the forger Mark W. Hofmann. When Hofmann invented a phantom "McLellin Collection" based on historical references, portions of the apostle's writings were found to reside in LDS archives. Some of these were published by the University of Illinois Press and BYU Studies thirteen years ago. Now other portions of the collection – including additional material at LDS archives and documents housed at the Marriott Library and Community of Christ archives – become available for the first time.

One of the original twelve apostles of the Church of the Latter Day Saints, as Mormons then presented themselves, McLellin advocated the genuine antiquity of the Book of Mormon. However, when questions emerged in 1837 Kirtland, Ohio, about founder Joseph Smith's connection to a live-in housekeeper, Fanny Alger, then issues of money and control of property, divided church leadership, McLellin criticized his once-beloved leader. Most pointedly, he questioned additions to an 1831 revelation regarding a second priesthood. A year after this dispute, McLellin was tried and excommunicated along with fellow stalwarts Oliver Cowdery, Apostles Luke and Lyman Johnson, David Whitmer, John Whitmer, and in 1839 William W. Phelps and Frederick G. Williams, all of whom had joined in the dissent against Joseph Smith.

Yet even after the prophet's death in 1844, McLellin remained close to the Smith family. It was McLellin whom the prophet's primary wife, Emma Smith, had told in Kirtland of seeing her husband, through a barn door, positioned on a hay mow with a young servant girl. McLellin recalls the struggle within the Smith family as Frederick Williams and others encouraged Joseph to offer a public apology. McLellin later related these incidents to the prophet's son, Joseph Smith III. An apostle at the time Joseph Jr. was offering new revelation to the church, McLellin was able to record early LDS events as an eyewitness, in their cultural context.

His treatises on many aspects of religion offer a fascinating glimpse into his struggle to fit his own religious dogma within the confines of any established religion of his day. Furthermore, his notebooks and letters highlight his own evolving theology. Throughout, he cites flaws he felt were apparent in the various branches of the faith. Because he had left Joseph at an early juncture, his commentaries described Mormonism as he remembered it – as it was taught in the pre-Nauvoo era. His writings therefore offer an important perspective into the thinking of one who was with the church early on as both a leader and critic. (George D. Smith, Excerpt – The William E. McLellin Papers, Link)
Ensign of Liberty, of the Church of Christ. nos 1-7. Kirtland, OH: W. E. McLellin, 1847-49.
The Journals of William E. McLellin 1831-1836
"Although McLellin became disaffected from the LDS Church in 1838, he retained belief in the historicity and truthfulness of the Book of Mormon until his death." (Jan Shipps and John W. Welch eds., The Journals of William E. McLellin, 1831-1836, University of Illinois Press and BYU Studies, 1994, p. 264)

"William E. McLellin (1806-1883) was an early Mormon apostle who later left the church. In his later years he questioned the authority of founder Joseph Smith, but he always said he believed that the Book of Mormon was truly the word of God. In 1871 he wrote a notebook in which he recorded his contacts with men who had filled special roles as Book of Mormon witnesses in 1829. McLellin described his 1833 interview of Oliver Cowdery and David Whitmer, his circa-1850 visit with Martin Harris, his 1869 visit with John Whitmer, and a report of an 1833 event involving Hiram Page. Cowdery, David Whitmer, and Harris steadfastly reaffirmed that they had handled the Book of Mormon plates and were visited by an angel. John Whitmer and Page reaffirmed that they had handled the plates. All continually testified that they believed the Book of Mormon to be the word of God. McLellin's 1871 notebook was thought to be lost but is in fact extant, in a private collection." (Mitchell K. Schaefer, "'The Testimony of Men,' William E. McLellin and the Book of Mormon Witnesses," BYU Studies, vol. 50, no. 1, (2011); synopsis.)
The William E. McLellin Papers, 1854-1880
"The LDS hierarchy was divided in 1837 over the militarization of the church in Missouri. Many in the leadership eventually reconciled, but one of the twelve apostles, William E. McLellin, became what might be termed a friendly critic. He retained his belief in the divinity of the Book of Mormon and kept in contact with former colleagues in the Quorum of the Twelve but could not support the new policies and directions. He resigned from the quorum in 1836 and was excommunicated in 1838. Most interesting for readers of the present volume may be McLellin's observations about how the church changed during his separation. McLellin said that in his five years of activity in the church, he never once heard of Joseph Smith's First Vision. Available historical evidence confirms that the First Vision was not known in the church until the 1840s, after McLellin's departure. McLellin wrote further: "I heard Joseph [Smith] tell his experience of his ordination and the organization of the church probably more than twenty times to persons who, near the rise of the church, wished to know and hear about it. I never heard of Moroni, John [the Baptist], or Peter, James, and John." McLellin believed that angels had visited Joseph Smith but not that human beings could become angels–a teaching not yet current in the 1830s–or that priesthood authority could be conveyed in that way. In addition, McLellin wrote of his disappointment in attending the Kirtland, Ohio, temple dedication in 1836 and not seeing angels, as he had hoped. The narrative regarding the appearance of Elijah and others in the temple would not be publicized until 1852. So in many ways, it was a much different church in the 1830s. McLellin illuminates what it meant to be LDS when the emphasis was on Christ's imminent return to earth; the gathering to Independence, Missouri; revelation through seer stones; and gifts of the Spirit–all of which McLellin continued to promote as beliefs of a true follower of Christ in the last days." (Amazon Book Description, Stan Larson and Samuel J. Passey, The William E. McLellin Papers, 1854-1880, Signature Books, 2007)
William E. McLellin's Lost Manuscript (1871-1872)
  Inside the lost McLellin notebook, By Michael De Groote Mormon Times, Jan. 28 2009:

Memorabilia collector Brent Ashworth announced last week the rediscovery of a notebook of William E. McLellin, a Mormon apostle who was excommunicated for apostasy in 1838.

Make no mistake about it. William E. McLellin had no love for The Church of Jesus Christ of Latter-day Saints after his excommunication in 1838. But the former apostle's testimony of the Book of Mormon survived and forms a significant part of his recently rediscovered 1871 notebook. McLellin's widow, who had joined the Reorganized Church of Jesus Christ of Latter Day Saints (now the Community of Christ), gave or sold the notebook to W.O. Robertson, who sold it to John Resch in 1919. Resch then sold it to RLDS apostle Paul M. Hanson, who put excerpts into a newspaper in 1929. Photographs exist from the 1920s or '30s of a few pages of the notebook. The notebook remained in Hanson's family until Brent Ashworth acquired it this summer at his store, B. Ashworth's, in Provo, Utah. The following excerpts are presented with the original spelling and punctuation as they appear in the notebook. Deletions are crossed out and insertions are in <brackets>. Editorial insertions are in (parenthesis). Ashworth hopes to have the full notebook published soon.

WICKED PEOPLE

(What is arguably the angriest comment in the notebook by the former member of the church was crossed out with a large "x" – apparently by McClellin's own hand. It probably refers to plural marriage as practiced by the LDS Church until 1890:)

I do not endorse many of the acts of Joseph Smith. And the older he grew, the wider of the mark his course until finally he died at the hands of his enemies, as "a fool dieth." In his afterlife he introduced great wickedness, and even abominations the "church of Latter Day Saints." And to day that people at the great Salt Lake valley are carrying out the measures introduced by him in Nauvoo. I firmly believe that the people called Latter Day Saints are the wickedest people of any that now live on this wide earth. But here I will stop, but could say more.

HOW SHALL WE KNOW?

(This extended excerpt covers several pages in McLellin's notebook. In it he explores several testimonies of the Book of Mormon. The numbering of the sections is in the original. The excerpt mentions the last of the eight witnesses of the Book of Mormon – this was was John Whitmer who died in 1878. Also, notice how McLellin spells his name as "McLellan" in this notebook. There are several different spellings of his name in various historical documents.)

The Testimony of men.

11. In open day light, in an open wood lot, with their sensitive powers all calm and serene, Joseph Smith, Oliver Cowdery, David Whitmer, and Martin Harris testify that an angel of glorified appearance and countenance came down from heaven, and stood before them, and took The plates which Joseph Smith had possessed, from which he had translated <read <off> the translation of the book> the Book, and held them in his hand, and showed as many of <the> leaves or plates as Joseph Smith had translated <completed>, to them. So that they saw and looked upon them until they were entirely satisfied. And <the angel> he spoke to David Whitmer and said, "David, blessed is the Lord, and he that keepeth his commandments." These men saw his form, saw his glorified appearance, heard his words, saw all that he showed them, and then saw him ascend to heaven again. This was no collusion. These men could not be mistaken. They either told the truth, or they wilfully lied. How shall we tell which, how shall we know? This vision was in 1829. More than forty years ago, and what has been the conduct of those men since that day? Two of them are dead – <and probably> two living. Those who are dead testified to the last hour of their lives of to the truth of this vision. Those who are still living are firm in their testimony. I visited David Whitmer after he was more than 65 years of age, and <he>solemnly declared to me "I saw the Angel of God, I heard his voice, hence I know of a truth! Martin Harris is some over 89 years of age, and still he carries the book of Mormon under his arm, and testifies to all great and small, "I am Martin Harris in all the world, and I know the book of Mormon to be verily true. And although all men should deny the truth of that book, I can not do it. My heart is fixed! I could not know more truly or certainly than I do."

12. In 1833, when mobbing reigned triumphant in Jackson Co. Mo. I and O. Cowdery fled from our homes, for fear of personal violence on Saturday the 20th day of July. The mob dispersed, agreeing to meet again on the next Tuesday. They offered eighty dollars reward for any one who would deliver Cowdery or McLellan in Independence on Tuesday. On Monday I slipped down into the Whitmer's settlement, and there in the lonely woods I met with David Whitmer and Oliver Cowdery. I said to them, "brethren I never have seen an open vision in my life but you men say you have, and therefore you positively know. Now you know that our lives are in danger every hour, if the mob can only only catch us. Tell me in the fear of God is that book of Mormon true"? Cowdery looked at me with solemnity depicted in his face, and said, 'Brother William, God sent his holy Angel to declare the truth of the translation of it to us, and therefore we know. And though the mob kill us, yet we must die declaring its truth". David said, 'Oliver has told you the solemn truth, for we could not be deceived. I most truly declare declare to you its truth"!! Said I, boys, I believe you. I can see no object for you to tell me false<hood> now, when our lives are endangered. Eight men testify also to handling that sacred pile of plates, from which Joseph Smith <read off the> translated<ion> that heavenly Book.

13. One circumstance I'll relate of one of these eight witnesses. While the mob was raging in Jackson Co. Mo. In 1833 some young men ran down Hiram Page <in the woods> one of the eight <witnesses,> and commenced beating and pounding him with whips and clubs. He begged, but there was no mercy. They said he was <a> damned Mormon, and they meant to beat him to death! But finally one of them said to him, if you will deny that damned book, we will let you go. Said he, how can I deny what I know to be true? Then they pounded him again. When they thought he was about to breathe his last, they said to him, Now what do you think of your God, when he don't save you? Well, said he, I believe in God – Well, said one of the most intelligent among them, I believe the damned fool will stick to it though we kill him. Let us let him go. But his life was nearly run out. He was confined to his bed for a length of time. So much for a man who knows for himself. Knowledge is beyond faith or doubt. It is positive certainty.

14. I in company with friend, visited one of the eight witnesses <in 1869.> – The only one who is now alive, and he bore a very lucid and rational testimony, and gave us many interesting particulars. He was a young man when he had those testimonies. He is now <was then> sixty eight years old, and still he is firm in his faith. Now I would ask what will I do with such a cloud of faithful witnesses, bearing such a rational and yet solemn testimony? These men while in the prime of life, saw the vision of the Angel, and bore this testimony to all people. And eight men saw the plates, and handled them. Hence these men all know the things they declared to be positively true. And that too while they were young, and now when old they declare the same things.

JOSEPH SMITH'S MIND

(This short extract has McLellin looking at Joseph Smith's mind. McLellin had started a church in 1847 that he called, like the name of the church in 1830, "The Church of Christ.")

33. I have read the Book many, many times through; and am well acquainted with the manner of its coming to light, and the circumstances of the organization of the "church of Christ", as probably any man who (is) now living. I was personally and intimately acquainted with Joseph Smith, <the man who read off the> the translator <translation> of the book, for five years near the beginning of his ministry. He attended my High school during the winter of 1834. He attended my school and learned science all winter. I learned the strength of his mind as <to> the study and principles of science. Hence I think I knew him. And I here say that he had one of <the> strongest, well balanced, penetrating, and retentive minds of any <man> with which <whom> I ever formed an acquaintance, among the thousands of my observation. Although when I took him into my school, he was without scientific knowledge or attainments. And I know that I do know the truth of this great work of the Last Days. And I would advise all people, kindreds, and tongues to believe and embrace the Book, and the doctrine, and the principles, and government and practice of the true "church of Christ." For the time of Christ's second coming is soon at hand(.)

CONCLUSION
LDS Church spokesman Scott Trotter issued a statement on the McLellin notebook after Ashworth's announcement last week:

"In recent years, a number of historical documents have been found that have added to our understanding of Joseph Smith, the time in which he lived and the challenges he faced. The church has welcomed and encouraged this process. While the church is not pursuing the acquisition of the McLellin manuscript, we are pleased the long-lost document has been found."

Although he had left The Church of Jesus Christ of Latter-day Saints and was highly critical of its leaders, practices and doctrines, McLellin has left a record of value to those who believe in the Book of Mormon and in the prophet Joseph Smith.

To purchase: Mitchell K. Schaefer, William E. McLellin's Lost Manuscript, Eborn Books, 2011)
[Larry C. Porter, "William E. McLellan's Testimony of the Book of Mormon," BYU Studies, vol. 10, no. 4, 1970, pp. 1-3.]

In 1880 James T. Cobb, a graduate of Dartmouth and Amherst colleges and a resident of Salt Lake City, was making an attempt to establish the falsity of the Book of Mormon through an extensive examination of its origins. Among those to whom he directed letters of inquiry was William E. McLellan, whose close association with Joseph Smith and the witnesses of the Book of Mormon in the early years of the Church made him an appropriate subject for correspondence.

William E. McLellan joined the Church in 1831. Although he became an early critic of Joseph Smith and other Church leaders, he nevertheless progressed to top leadership positions and on February 15, 1835, he was ordained as one of the original members of the Quorum of the Twelve. He later wrote a letter criticizing the Prophet, was suspended from fellowhip and then restored. He again lost confidence in Church leadership, not, apparently, from what he had seen but from what he had heard, and soon stopped praying and keeping the commandments. On May 11, 1838, he was excommunicated. Later he tried to start a church of his own, which failed, after which he took up the practice of medicine. He died in Missouri in 1883. [fn. Andrew Jenson, Latter-day Saint Biographical Encyclopedia, 1901, vol. I, pp. 82-83.]

The following testimony was written in reply to James T. Cobb's inquiry. Its significance lies in the fact that even though McLellan was disillusioned with Joseph Smith and other Church leaders, as the letter makes clear, nevertheless was unable to deny his conviction that the Book of Mormon was what it claimed to be. The original of this letter is located in the New York Public Library, New York City.

Letter [italics by Porter]
Independence, MO, August 14th 1880
Mr. J. T. Cobb.

Yours of Aug. 9th lies before me, and has been carefully read and considered. I did not answer your former letter because I did not think I could do any good by it, and I now have doubts as to any good resulting, but I'll comply with your request.

I am opinionated. When I thoroughly examine a subject and settle my mind, then higher evidence must be introduced before I change. I have set to my seal that the Book of Mormon is a true, divine record and it will require more evidence than I have ever seen to ever shake me relative to its purity." I have read many 'Exposes.' I have seen all their arguments. But my evidences [p 1] are above them all!

"I have no faith in Mormonism, as an ism, even from its start, neither have I in Latter day Saintism from its start – through all of its developments. I have no confidence that the church organized by J. Smith and O. Cowdery was set up or established as it ought to have been. And the further its run, its run still further from the true way – further from the plain simplicity of that Divine record, the Book of M. I don't know that I am surprised at a thinking man for rejecting L.D.S.ism as it's now developed in any and all branches of what is called Mormonism. But when a man goes at the Book of M. he touches the apple of my eye. He fights against truth – against purity – against light – against the purist, or one of the truest, purist books on earth.I have more confidence in the Book of Mormon than any book on this wide earth! And its not because I don't know its content, for I have probably read it through 20 times. I have read it carefully through within a year, and made many notes on it. It must be that a man does not love purity when he finds fault with the Book of Mormon!! Fight the wrongs of LDSism as you please, but let that unique, inimitable book alone. I have but little confidence in the purity of a man's life or in his principles of action after becoming acquainted with that Book, and then fighting or opposing its divine excellence! Hence, you may know what I think of your course!!

When I first joined the church in 1831, soon I became acquainted with all the Smith family and the Whitmer family, heard all their testimonies, which agreed in the main points; and I believed them then, and I believe them yet. But don't believe the many stories (contradictory) got up since, for I individually know many of them are false.

My advice to you is cease your opposition and strife against the Book, and fight against wrong doing in professors; for you might just as well fight against the rocky mountains as the Book!!

David Whitmer has lost his thumb on his right hand several years ago, and cannot write. And he would not be willing to write much to a man who fights the Book of M. which he knows to be true. I saw him June 1879, and heard him bear his solemn testimony to the truth of the book – as sincerely and solemnly as when he bore it to me in Paris, Ill in July 1831. I believed him then and still believe him. You seem to think he and I ought to come out and tell something – some darkness relative to that book. We should lie if we did, for we know nothing against its credibility or divine truth.

I can but hope you will alter your course and use your talents, energy and all your exertions in behalf of the truthfulness of that glorious volume!!

With profound respect for truth, purity & holiness I subscribe myself a lover of all that is true and wholesome.

I as ever.

W. E. McLelland, M.D.

P. S. Like you I want to add a few words. I never had but one letter from you until this one. You seem to think S. Rigdon the bottom of all M.ism. Many people know better. He never heard of the work of Smith & Cowdery until C. and P. P. Pratt brought the Book to him in Mentor, OH. True enough, I have but little confidence in S. Rigdon, but I know he was more the tool [p 3] of J. Smith than his teacher and director. He was docile in J. S. hands to my knowledge.

I left the church in August 1836, not because I disbelieved the Book or the then doctrines preached or held by the Church, but because the Leading men to a great extent left their religion and run into and after speculation, pride, and popularity! Just like the Israelites and the Nephites often did. I quite because I could not uphold the Presidency as men of God; and I never united with Joseph and party afterward!! I have often examined all the reasons you assign, but they have but little bearing in my mind. I know a man can sit down and find crookedness in almost anything by prying closely with it. In that light you are to work at the Book, and M.ism. Your life like all other exposers will be spent in vain, and worse than in vain. Then Great events are just a little ahead of us. Great things are on hand today, but they will increase. Again. I live alone outside of all churches. I most firmly believe that the Lord will establish the Church of Christ shortly, then if they will accept me, I'll unite with them!!! Thus I look for power from God to be displayed among his ministers. And then the Book of M. will be a kind of standard for faithful. But I'll close hoping you may yet come to see the truth. "

[Note: the word "establish" does not mean found, only organize Mosiah 27:13]

(Larry C. Porter, "William E. McLellan's Testimony of the Book of Mormon," BYU Studies, vol. 10, no. 4, 1970, pp. 1-3)
See Also
"This issue also features a selection from a new found document written in 1871 by William McLellin that tells about McLellin's interviews of the Book of Mormon witnesses" (Mitchell K. Shaefer, "The Testimony of Men: William E. McLellin and the Book of Mormon Witnesses," BYU Studies, vol. 50, no.1, 2011)
Mark R. Grandstaff, "Having More Learning Than Sense: William E. McLellin and the Book of Commandments Revisited," Dialogue, vol.26, no.4, p.23
Steven C. Harper, "Drawing Lessons from a Life: William E. McLellin, 1831-1832," Lives of the Saints: Writing Mormon Biography and Autobiography, ed. Jill Mulvay Derr (Provo: BYU Smith Institute for Latter-day Saint History, 2002), 77
Richard P. Howard, "William E. McLellin: 'Mormonism's Stormy Petrel,'" in Launius and Thatcher, eds., Differing Visions, 76, 78, 97
"McLellin Became Enemy of Church," LDS Church News, Oct. 27, 1985
"Writings Shed Light on Church History," LDS Church News, Oct. 24, 1992
Wilford Woodruff, "History of William McLellin," Deseret News, May 12, 1858
The most substantial McLellin biography to date is Larry C. Porter, "The Odyssey of William Earl McLellin: Man of Diversity, 1806-83," in The Journals of William E. McLellin, 1831-1836, eds. Jan Shipps and John W. Welch (Provo and Urbana: BYU Studies and University of Illinois Press, 1994), 291-378
Oliver Cowdery (1806 – 1850)
The last persons to know Oliver's views regarding Mormonism before he died was David and Oliver's brother Warren.
David said:
I will now make this subject SO PLAIN THAT YOU CANNOT HELP BUT UNDERSTAND ME, IF YOU DID NOT BEFORE.

I did not say that Oliver Cowdery and John Whitmer had not endorsed the Doctrine and Covenants in 1836. They did endorse it in 1836; I stated that they came out of their errors (discarded the Doctrine and Covenants), repented of them, and died believing as I do today. I have the proof to verify my statement. If anyone chooses to doubt my word, let them come to my home in Richmond and be satisfied.

In the winter of 1848, after Oliver Cowdery had been baptized at Council Bluffs, he came back to Richmond to live, and lived here until his death, March 3, 1850. (David Whitmer, An Address to All Believers in the Book of Mormon, p. 1)
Warren said:
He [Oliver] did frequently express his opinion of those different factions pretending to hold authority of the primitive Church of Christ, who do not cleave to the standard of truth. Of those he said they are either deceivers, or deceived; but he said there are many among them who are honest and will receive the truth when they hear it; and any organization that does not agree with the order laid down in the Bible and Book of Mormon in the gospel dispensation, is to be rejected; knowing that for us to support such errors would be opposing the order of God, and would be worshipping the man of sin. Among his last words, was to reaffirm his testimony to the Book of Mormon. (Saints' Herald 33, February 6, 1886, p. 33)
Early in 1829 Oliver received the call to start a church, the articles of which mirror the Book of Mormon and were replaced by Joseph's church and D&C 20:
ARTICLES OF THE CHURCH OF CHRIST

A Commandment from God unto Oliver [Cowdery] how he should build up his church & the manner thereof saying Oliver [Cowdery] listen to the voice of Christ your Lord & your God & your Redeemer & write the words which I shall command you concerning my Church my Gospel my Rock & my Salvation. Behold the world is ripening in iniquity & it must needs be that the children of men are stirred up unto repentance both the Gentiles & also the House of Israel for behold I command all men every where to repent & I speak unto you even as unto Paul mine apostle for ye are called even with that same calling with which he was called Now therefore whosoever repenteth & humbleth himself before me & desireth to be baptized in my name shall ye baptize them

And after this manner did he command me that I should baptize them Behold ye shall go down & stand in the water & in my name shall ye baptize them And now behold these are the words which ye shall say calling them by name saying Having authority given me of Jesus Christ I baptize you in the name of the Father & of the Son & of the Holy Ghost Amen And then shall ye immerse them in the water & come forth again out of the water & after this manner shall ye baptize in my name For behold verily I say unto you that the Father & the Son & the Holy Ghost are one & I am in the Father & the Father in me & the Father & I are one.

And ye are also called to ordain Priests & Teachers according to the gifts & callings of God unto men & after this manner shall ye ordain them Ye shall pray unto the Father in my name & then shall ye lay your hand[s] upon them & say In the name of Jesus Christ I ordain you to be a Priest or if he be a Teacher I ordain you to be a Teacher to preach repentance & remission of sins through Jesus Christ by the endurance of faith on his name to the end Amen

And this shall be the duty of the Priest He shall kneel down & the members of the Church shall kneel also which Church shall be called The Church of Christ & he shall pray to the Father in my name for the church & if it so be that it be built upon my Rock I will bless it And after that ye have prayed to the Father in my name ye shall preach the truth in soberness casting out none from among you but rather invite them to come

And the Church shall oft partake of bread & wine & after this manner shall ye partake of it The Elder or Priest shall minister it & after this manner shall he do he shall kneel with the Church & pray to the Father in the name of Christ & then shall ye say O God the Eternal Father we ask thee in the name of thy Son Jesus Christ to bless & sanctify this bread to the souls of all those who partake of it that they may eat in remembrance of the body of thy Son & witness unto thee O God the Eternal Father that they are willing to take upon them the name of thy Son & always remember him & keep his commandments which he hath given them that they may always have his spirit to be with them Amen

And then shall ye take the cup & say O God the Eternal Father we ask thee in the name of thy Son Jesus Christ to bless & sanctify this wine to the souls of all those who drink of it that they do [it] in remembrance of the blood of thy Son which was shed for them that they may witness unto thee O God the Eternal Father that they do always remember him that they may have his spirit to be with them Amen

And now behold I give unto you a commandment that ye shall not suffer anyone knowingly to partake of my flesh & blood unworthily when ye shall minister it for whoso eateth & drinketh my flesh & blood unworthily eateth & drinketh damnation to his soul Therefore if ye know that a man is unworthy to eat & drink of my flesh & blood ye shall forbid him nevertheless ye shall not cast him out from among you but ye shall minister unto him & shall pray for him unto the Father in my name & if it so be that he repenteth & is baptized in my name then shall ye receive him & shall minister unto him of my flesh & blood but if he repenteth not he shall not be numbered among my people that he may not destroy my people For behold I know my Sheep & they are numbered nevertheless ye shall not cast him out of your Synagogues or your places of worship for unto such shall ye continue to minister for ye know not but what they will return & repent & come unto me with full purpose of heart & I shall heal them & ye shall be the means of bringing Salvation unto them Therefore keep these sayings which I have commanded you that ye come not under condemnation for wo unto him whom the Father condemneth

And the church shall meet together oft for prayer & sup[p]lication casting out none from your places of worship but rather invite them to come And each member shall speak & tell the church of their progress in the way to Eternal life And there shall be no pride nor envying nor strifes nor malice not idoletry [idolatry] nor witch crafts nor whoredoms nor fornications nor covetiousness [covetousness] nor lying nor deceits nor no manner of iniquity & if anyone is guilty of any or the least of these & doth not repent & show fruits meat for repentance they shall not be numbered among my people that they may not destroy my people

And now I speak unto the Church Repent all ye ends of the Earth & come unto me & be baptized in my name which is Jesus Christ & endure to the end & ye shall be saved Behold Jesus Christ is the name which is given of the Father & there is none other name given whereby men can be saved Therefore all men must take upon them the name which is given of the Father for in that name shall they be called at the last day Therefore if they know not the name by which they are called they cannot have place in the Kingdom of my Father Behold ye must walk uprightly before me & sin not & if ye do walk uprightly before me & sin not my grace is sufficient for you that ye shall be lifted up at the last day

Behold I am Jesus Christ the Son of the living God I am the same which came unto my own & my own received me not I am the light which shineth in darkness & the darkness comprehendeth it not these words are not of men nor of man but of me Now remember the words of him who is the first & the last the light & the life of the world And I Jesus Christ your Lord & your God & your Redeemer by the power of my Spirit have spoken it Amen – And now if I have not authority to write these things judge ye behold ye shall know that I have authority when you & I shall be brought to stand before the judgment seat of God Now may [the grace] of God the Father & our Lord Jesus Christ be & abide with you all & [lacuna in MS] save you Eternally in his Kingdom through the Infinite atonement which is in Jesus Christ Amen

Behold I am Oliver [Cowdery] I am an Apostle of Jesus Christ by the will of God the Father & the Lord Jesus Christ Behold I have written the things which he hath commanded me for behold his word was unto me as a burning fire shut up in my bones & I was weary with forbearing & I could forbear no longer Amen Written in the year of our Lord & Saviour 1829 — A true Copy of the articles of the Church of Christ

(Manuscript in LDS archives. See Robert J. Woodford, "The Historical Development of the Doctrine and Covenants," Ph.D. diss., Brigham Young University, 1974, 287-90; Scott H. Faulring "An Examination of the 1829 'Articles of the Church of Christ' in Relation to Section 20 of the Doctrine and Covenants" BYU Studies Volume 43:4, 2004, http://byustudies.byu.edu/showTitle.aspx?title=6904)
David Whitmer (1805 – 1888)
David Whitmer wrote the most regarding the differences between Joseph Smith and the Book of Mormon, explaining in detail what those points were in these publications:
You call me an apostate, and say that an evil spirit has led me to preach repentance and REFORMATION to you before I go down to the grave. In this manner was Abinadi sent alone of God to preach to the church, when they had all gone into error. But his brethren were in blindness and the great majority of them rejected the words of Abinadi, telling him he was an evil spirit. But the Lord in time brought destruction upon the church for rejecting the words of Abinadi. King Noah had been anointed by his father, who was in authority; he had many priests around him who thought certain they were not in error, and needed no repentance; they believed they were the only true and accepted people of God. Why was it they could not see and understand? Because they were in spiritual blindness. I want to ask you who is an apostate from the faith, he who stands for the doctrine as Christ taught it to the "twelve" at Jerusalem, and the "twelve" upon this land, or he who teaches more or less and establishes it for his doctrine? (Address to All Believers in the Book of Mormon, p. 8.)

The last of the Whitmers who believed as he was John C. Whitmer's daughter Mayme Janetta Whitmer Koontz who died in 1961.

David Whitmer "re-established the Church in Richmond as the SIMPLE BROTHERHOOD it had been at the start." (Helen Van Cleave Blankmeyer, David Whitmer, Witness for God, Springfield, IL, 1955, p. 60)
William P. Brown (1832 – 1891+)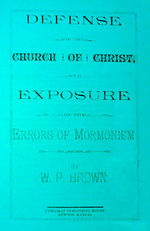 William P. Brown did an excellent job defending David Whitmer and the doctrines of the Church of Christ:
One of David's staunchest supporters was William P. Brown, who was born in Lanark, Scotland in 1832. In 1873, Brown was associated with The Church of Jesus Christ (Bickertonite) when R. M. Elvin baptized him into the RLDS church at Independence. In the 1880s, Brown joined the Whitmerites and published three pamphlets defending their Church of Christ. In 1887, he commented in his first pamphlet that he had been 'in the Latter Day Saints churches twenty-two years.' When speaking of RLDS opponent Elder J. F. McDowell, Brown said: 'He believes every word in this book. If I had not been an apostate he might have given me the grip or the sign,' wryly comparing acceptance in the RLDS church to acceptance in the Masonic fraternity. Prior to 1887, Brown had purchased property in Independence with intentions of building a church. However, by 1891, he was attempting to sell the property to finance his mission trip to Jerusalem. (Scattering of the Saints: Schisms Within Mormonism, eds. Newell G. Bringhurst and John C. Hamer, John Whitmer Books, 2007, p.43; https://www.academia.edu/17629348/Whitmer_Family_Beliefs_and_Their_Church_of_Christ)
He published three titles:
Defense of the Church of Christ, and Exposure of the Errors of Mormonism. Newton, KS: Democrat Publishing House, 1887, 30 pp.
Pamphlet No. 2, Exposure of the Errors of Mormonism, and Defense of the Church of Christ. Newton, KS: Republican Printing House, 1887, 52 pp.
Exposure of the Errors of Mormonism and Defense of the Church of Christ, Pamphlet No. 3. Newton, KS: Reynolds Bros., Printing House, 1888, 103 pp.
Ebenezer Robinson (1816-1891)
25 May 1816 – 11 Mar. 1891. Printer, editor and publisher, born at Floyd (near Rome), Oneida Co., New York, son of Nathan Robinson and Mary Brown. Moved to Utica, Oneida Co., ca. 1831 and learned printing trade at Utica Observer. Moved to Ravenna, Portage Co., Ohio, Aug. 1833, and worked as compositor on The Ohio Star. Moved to Kirtland, Geauga Co., Ohio, May 1835, and worked in printing office. Baptized into the LDS church by Joseph Smith, 16 Oct. 1835. Married first Angelina (Angeline) Eliza Works, 13 Dec. 1835 in Kirtland, OH. Ordained an elder 29 Apr. 1836 and a seventy 20 Dec. 1836. Served a mission to Richland Co., Ohio, June – July 1836 and shortly after served a mission to New York. Moved to Far West, Caldwell Co., Missouri, spring 1837. Assisted with the publication of the Elders' Journal summer 1838. Church clerk and recorder and clerk of Missouri high council, 1838. Member of Far West high council, Dec. 1838. Justice of the peace, 1839. When driven from Missouri, moved to Quincy, Adams Co., Illinois, and worked on Quincy Whig, 1839. Became publisher, coeditor, and editor of Times and Seasons 1839 – 1842 at Commerce (later Nauvoo), Hancock Co., Illinois. Member of Nauvoo Masonic Lodge. Justice of the peace in Hancock Co., by 1842. Served mission to New York, 1843. Moved to Pittsburgh, June 1844. Affiliated with Sidney Rigdon and served as his counselor. In May 1846, moved to Greencastle, Franklin Co., Pennsylvania, where he edited Rigdonite Messenger and Advocate of the Church of Christ. Moved to Decatur Co., Iowa, Apr. 1855. Baptized into RLDS church by William W. Blair, 29 Apr. 1863, at Pleasanton, Hamilton Township, Decatur Co. Wife died, 1880. Married second Martha A. Cunningham, 5 Feb. 1885. Affiliated with David Whitmer's Church of Christ, 1888. Edited Whitmerite periodical The Return, 1889 – 1891. Died at Davis City, Decatur Co.
One of David Whitmer's followers, Ebenezer Robinson published a newspaper called:
References:
Crawley, Peter. A Descriptive Bibliography of the Mormon Church. Vol. 1, 1830 – 1847. Provo, UT: Religious Studies Center, Brigham Young University, 1997.
Black, Susan Easton, comp. Early Members of the Reorganized Church of Jesus Christ of Latter Day Saints. 6 vols. Provo, UT: Religious Studies Center, Brigham Young University, 1993.
John Jacob Snyder (1853 – 1926+)
The Solution of the Mormon Problem: What is it? (Independence, MO: Zion's Advocate, 1926)
John was David's scribe (David lost a thumb in a gun accident) for correspondences and his Addresses. John's title was a reprint of David's Address with an affidavit denying he was the author of David's Addresses. John had some additional writings, the following two were listed on A Comprehensive Annotated Book of Mormon Bibliography by Jeanette W. Miller, Donald W. Parry, and Sandra A. Thorne
S.439 Snyder, John Jacob. Glad Tidings. Kansas City: Truth Publishers, 1920. The Book of Mormon fulfills the words of the prophet Isaiah. It is an important book for the salvation of man, but the RLDS church condemns the Doctrine and Covenants and declares the "Mormon church" a stumbling block to the acceptance of the Book of Mormon. The witnesses to the book never denied their testimony. [J.W.M.]

S.440 Snyder, John Jacob. Truth: Number 2 (The Truth of the Book of Mormon). Salt Lake City: John Jacob Snyder, 1896. Snyder believes in and preaches Book of Mormon doctrines but rejects the teachings and authority of the LDS church. Believes Mormons have gone astray since the days of Joseph Smith. [D.W.P.]
George Schweich (1853-1926)
David Whitmer's son-in-law George Schweich did a newspaper with editors Charles Wickes and L. P. Hansen called:
Messenger of Truth 1900-1901.
Nephite Records 1899, a Book of Mormon based on the original Palmyra edition of 1830: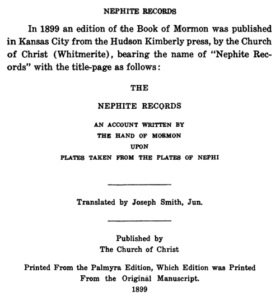 Pauline Hancock – Independence, MO (?-1962)
Church of Christ (Bible and Book of Mormon) / Basement Church
Broke off from the Church of Christ (Temple Lot) Mrs. Hancock's standard works are the Bible and the Book of Mormon. She does not accept the Doctrine and Covenants or the Pearl of Great Price, although she feels that "some" of the revelations of Joseph Smith in the beginning were genuine. (Those he had stewardship for, i.e. Book of Mormon.) Her attitude toward the Prophet is that "Joseph Smith was a wicked man." She believes that he was called of God, but after bringing forth the Bookof Mormon he introduced polygamy and many other false doctrines and thereby fell from the grace of God. "The Urim and Thummim and the Plates were taken from him and were never returned," she said. "Joseph Smith was not true to us. God called him but he failed." (Personal interview.) (Russell R. Rich, Little Known Schisms of the Restoration, BYU Press, 1962, 1963, 1967, p. 33)

She said, "I am not a Latter-day Saint." But she did not mean the same that you and I would mean by the term. By "Latter-day Saint" she meant a member of any one of the "churches of the restoration." She believes in Joseph Smith only to the extent that he brought forth the Book of Mormon and that is all. She meant, then, that she did not accept the teachingsof Joseph Smith and does not classify herself among the believers of the Restored Gospel. All she accepts in relation to the restoration is the Book of Mormon. Mrs. Hancock, then, would srongly protest the classifying of her church as a schism of the Restored Church. (Ibid. p. 33-34)

—

Preaching the same doctrine and associated with her publishing tracts are H.Irvin Luke and Andrew L.Parket of Independence, Missouri. These independent groups are firm believers in the truths of the Book of Mormon, preaching that its purpose "is to convince the Jews and Gentile that Jesus is the Christ, the Eternal God, manifesting himself unto all nations." Their tracts plead with people to realize the importance of their teachings in the gospel plan of Jesus Christ and to return to these things. (Denominations that Base their Beliefs on the Teachings of Joseph Smith, Daughters of Utah Pioneers, 1969, 2nd Ed., p.50)

—

After Pauline's death, members of her church voted against the Book of Mormon in 1973, and sold the church in 1984.
Frank W. Wipper – Fresno, CA (1883 – 1970)
The Frank F. Wipper Papers (1957-1960s) consist mainly of the newsletter "Gospel Fullness," edited by Frank Wipper and issued monthly out of Fresno, California. http://db3-sql.staff.library.utah.edu/lucene/Manuscripts/null/Accn2364.xml/complete

—

Book of Mormon Foundation (Frank F. Wipper) Papers A member of the RLDS Church until the Supreme Directional Control controversy, Wipper joined the Temple Lot Church in 1925, was called to be an apostle in that church , but left it in 1926 to organize the Church of Christ, Independent-Informal, which rapidly disintegrated, mostly because of its informality. Primarily the work of Frank Wipper, the Book of Mormon Foundation was organized in 1951. Not a church, the BOMF is a forum for discussion of the Book of Mormon and publishing related materials. Bob Maley (1925-) took over after the death of Frank Wipper in 1970. The collection is divided into Papers (V) and Correspondence (VI).Book of Mormon Foundation (Frank F. Wipper) http://contentdm.lib.byu.edu/u?/EAD,1110

—

W.373 Wipper, Frank F. The Book of Mormon as the Basis for Some Vital Conclusions. Fresno, CA: Book of Mormon Foundation, 196?. Argues that the value of the Book of Mormon lies in its restoration of lost biblical truth and sets forth the idea that the early LDS church went astray by publishing the Book of Commandments and later the Doctrine and Covenants, rather than relying totally on the Bible and the Book of Mormon. [D.M.]

W.374 Wipper, Frank F. Commentary on Some Nephite Record Subjects. N.p.: n.p., 1940?. Presents an outline of several Book of Mormon subjects: (1) priests in the Book of Mormon – finds that Book of Mormon priests were after the order of Melchizedek; (2) the choice seer – the choice seer was to come from the tribe of Joseph who was sold into Egypt. This seer will be named Lehi and he will be weak in speaking and will need a spokesman. This criteria does not fit Joseph Smith; (3) Zion – suggests that Zion is a spiritual condition not a literal gathering; (4) the parable of Zenos – outlines its contents, stressing the need for obedience and an ultimate cleansing. [J.W.M.]

W.375 Wipper, Frank F. Doctrine and Covenants Critically Analyzed as a Sacred Book . Fresno, California: Frank F. Wipper, n.d. Believes that the Doctrine and Covenants wrongly became the substitute for the Book of Mormon. Joseph Smith became a fallen prophet who changed the doctrine taught in the Book of Mormon, which contains the true doctrine. [J.W.M.]

W.376 Wipper, Frank F. Emphasis on the Book of Mormon. Fresno, CA: Frank F. Wipper, 1960?. One year following the publication of the Book of Mormon, a shift of emphasis had taken place among the Latter-day Saints. The Lord warned them in June of 1829 (D&C 15) to place emphasis upon the writings that he had given to them prior to June of 1829 – the Book of Mormon. There is no church upon the earth, only the Book of Mormon guides souls to the truth. [J.W.M.]

W.377 Wipper, Frank F. The Gift of Translating. Fresno, CA: Frank F. Wipper, 196?. Joseph Smith was called to translate only the Book of Mormon and was given no other gift (D&C 4:2). By May 1829 Joseph Smith gave up the seer-stones and negative changes came over him. [J.W.M.]

W.378 Wipper, Frank F. Is the Book of Mormon from God? Fresno, CA: Frank F. Wipper, 196?. A rebuttal to James M. Tolle, Is the Book of Mormon from God? Writes about Lehi's genealogy, lights in the barges of Jared, the Liahona, plagiarism of the Bible, and other items. The Book of Mormon is a true document, but after the translation was complete and he gave up the stone Joseph Smith changed in a negative manner. [J.W.M.]

W.379 Wipper, Frank F. Jerald Tanner's Brochure on Mormonism Re-examined: Just A Friendly Discussion. Fresno, CA: Vanity, 196?. Author bears fervent testimony of the Book of Mormon and pleads with Tanner to reconsider his evaluation of the book. Wipper condemns Utah Mormonism and the RLDS church as well. [J.W.M.]

W.380 Wipper, Frank F. Nephite Record Texts. N.p., n.d. A ready reference that lists the custodians of the Nephite records and when they lived. [D.M.]

W.381 Wipper, Frank F. Reaching Up to Grasp the Fullness? Joseph Smith Saints vs. the Book of Mormon. Kansas City: KS: Book of Mormon Foundation, 196?. Applauds David Whitmer, who loved and defended the Book of Mormon, but eschewed other forms of "Latter-day Saintism." [D.M.]

W.382 Wipper, Frank F. Thy Kingdom Come. Fresno, CA: Vanity, 196?. Deals with the kingdom of God throughout the dispensations, including the Book of Mormon period. [D.M.]

W.383 Wipper, Frank F. Translation Correct! Kansas City, KS: Book of Mormon Foundation, 1960. Believes that the Book of Mormon was a word-for-word translation. [J.W.M.]

W.384 Wipper, Frank F. Translation of the Book of Mormon. N.p., 1960?. Several short essays condemning alterations that have been made in the wording and punctuation of the Book of Mormon. The author calls for the release of the original manuscript so that the original version of the translation can be read instead of what is printed now. [B.D.]

W.385 Wipper, Frank F. "The Translation of Them Which You Have Seen Is . . . Correct!" Kansas City, KS: Book of Mormon Foundation, 196?. Discusses the translation and manuscripts of the Book of Mormon, arguing that the book was translated accurately. [D.M.]

W.386 Wipper, Frank F. An Unlearned Man: Who "The Lord Should Suffer to Bring These Forth." Fresno, California: Frank F. Wipper, 196?. Wipper's intent is to glorify God and the unlearned man who brought forth the Book of Mormon. [J.W.M.]

W.387 Wipper, Frank F. Witnesses. Fresno, CA: Frank F. Wipper, 1952. A series of mimeographed circulars devoted to promoting the Book of Mormon, but opposing the Latter-day Saint "Mormons" and RLDS churches and their doctrines. [J.W.M.]

W.388 Wipper, Frank F. Wounded in the House of Its Intimates. Kansas City, KS: Vanity, 1960?. Distinguishes between the post-Book of Mormon teachings of the LDS/RLDS churches and the Book of Mormon itself. [D.M.]

[A Comprehensive Annotated Bibliography of the Book of Mormon]

—

The Book of Mormon Foundation

James R.Snell of Kansas City, Kansas and Frank W. Wipper of Fresno, California head a foundation known as The Book of Mormon Foundation, Independent – Informal. They are harmonious in their teachings. According to Wipper, "they are dedidcated to the preservation of the original text of the Book of Mormon as it was brought forth in 1823-1830."

Both Mr. Snell and Mr. Wipper publish articles in which they put forth the claim that they are "a forum of study and research, free from the bias of organized religion." They cannot be counted as a faction but should be listed as their writings deal primarily with Joseph Smith, his translation of the Book of Mormon and history to date of that sacred record. (Pioneer, p. 59-60)
James R. Snell – Kansas City (1970-1993)
An Open Book

"An Open book : the Book of Mormon : dedicated to harmonious truth as found in the Bible and the Book of Mormon" edited by Jim Snell. (Kansas City, KS : Snell Printing, No. 1-36, 1970-1980.

Description: An independent Mormon journal dealing primarily with the Book of Mormon and teaching what might be called "Whitmerite" Mormonism. The editor, James R. Snell, was at one time associated with Frank F. Wipper and the Book of Mormon Foundation. Issue no. 1 (January 1970)-issue no. 36 (March 1980)

Book of Mormon Texts, Snell Printing, 1993.
Jerald and Sandra Tanner – Salt Lake City (Believers until 1962)
"In Salt Lake City another branch with the same beliefs as Pauline Hancock is headed by youthful Jerald Tanner, who, when asked what he and his followers believed, wrote:

'We believe the Bible and the Book of Mormon to be the word of God. We do not believe in holding up any man, but rather in holding up Christ.' … Mr.Tanner has written a number of tracts which he distributes freely on such subjects as the Book of Mormon, Priesthood, Marriage, proof that the Book of Mormon and the Bible agree, one on the Doctrine and Covenants, another on the Book of Mormon and Plural Marriage." (Pioneers, p. 51)

—

"He began holding a series of meetings in the basement of his Utah home, conceding that even though he had placed his trust in Christ, he still believed in the authenticity of the Book of Mormon until 1962." (A Tribute to Jerald Tanner, by Bill McKeever October 7, 2006)

"Despite the fact that Pauline's letter ran six pages, the gist of her arguments was very typical of that so often heard from Mormon leaders. She essentially repeated several times over that Jerald knew what he felt when he was with her group, so who cares what men say? To the end of his life Jerald believed that the love of Christ he experienced for the first time at Pauline Hancock's church was real. He did not, however, conclude from this, as she did, that the Book of Mormon must therefore be true." (Ronald V. Huggins, Jerald Tanner's Quest for Truth – Part 2)

—

"The Tanners would publicly give up the Book of Mormon in 1962, making the case for doing so in a tract called 'Facts Concerning the Book of Mormon.' This tract became the basis for a chapter in Jerald's Mormonism: A Study of Mormon History and Doctrine, a book that in turn would become the basis of the various editions of Mormonism – Shadow or Reality?

Giving up the Book of Mormon was much more difficult for the Tanners than leaving the LDS Church had been. 'Even when I had decided in my mind that I did not believe the Book of Mormon, any longer,' Sandra told the New York Times in 1965, 'it was months before I could say it out loud.'

When Pauline died of cancer on October 19, 1962, she still clung to her faith in the Book of Mormon. When Jerald and Sandra gave up the Book of Mormon Pauline Hancock's church grieved but did not reject them as the Utah Mormons had done when they first began questioning." (Ibid.)

For a very short period they wrote papers while living in North Hollywood [1959-1960], California. All other publications were done in Salt Lake City, Utah. (H. Michael Marquardt, A Tanner Bibliography (1959-2017), 2017, p. 1)
Research:
Scott Faulring research collection on Jerald and Sandra Tanner (1959-1984)
A Tanner Bibliography (1959-2017) by H. Michael Marquardt
An Address to All Believers by Book of Mormon Witness David Whitmer – Reprints
At the turn of the century many groups reprinted David Whitmer's Address to All Believers in Christ, yet not all heeded the message therein:
Bales, James D. and David Whitmer. An Address to All Believers in Christ, By a Witness to the Divine Authenticity of the Book of Mormon. Martinez, CA: Pacific Publishing Company, 1959, 1960, 1970, 1972, 1993. Offset printing by Pleasant Hill Church of Christ, Pleasant Hill, CA
Draves, W.A. and David Whitmer. An Address to All Believers in Christ, By a Witness to the Divine Authenticity of the Book of Mormon. Nucla, CO: Church of Christ, 1942
Henning, Viola and David Whitmer. The Solution of the Mormon Problem. Independence: Voice of Warning Office, 1942
Snell, Jim and David Whitmer. An Address to All Believers in Christ, By a Witness to the Divine Authenticity of the Book of Mormon. Kansas City: 197-
Snyder, John J. and David Whitmer. The Solution of the Mormon Problem: What is it? Independence: Zion's Advocate, 1926
Tanner, Jerald and David Whitmer. An Address to All Believers in Christ, By a Witness to the Divine Authenticity of the Book of Mormon. Salt Lake City: Utah Lighthouse Ministry, 196-. Introduction by Jerald Tanner
Whitmer, David An Address to All Believers in Christ, By a Witness to the Divine Authenticity of the Book of Mormon. Oak Grove, MO: The Church of Christ, 1997
Wipper, Frank and David Whitmer. An Address to All Believers in Christ, By a Witness to the Divine Authenticity of the Book of Mormon. Independence: Book of Mormon Foundation, 1960
Bibliographical References
Dunford, G. Osmond. "Heretic Factions from the Church of Jesus Christ of Latterday Saints: 'The Church of Christ', or the 'Whitmerites' and 'The True Church of Jesus Christ', Or 'Cutlerites'," 1959
Flanders, Robert Bruce. "The Mormon's Who Did Not Go West." Master's thesis, University of Wisconsin, 1954
Hilton, Hope. Joseph's Scattered Flock, BYU Extensions Publications, July 1958, Typescript BYU Leadership Week
Rich, Russell R. Those Who Would Be Leaders (Offshoots of Mormonism), B. Y. U. Extension Publications, July 1958
Shields, Steven L. Divergent Paths of the Restoration, 4th ed. Independence: Herald Publishing House, 2001
Roger, Launis D. and Linda Thatcher eds. Differing Visions: Dissenters in Mormon History. Urbana: University of Illinois Press, 1994
Bringhurst, G. Newell and John C. Hamer eds. Scattering of the Saints: Schism within Mormonism. Independence: John Whitmer Books, 2007