William B. Smith
William B. Smith was the second youngest brother to Joe next to Don Carlos. William did not follow Brigham Young west but stayed behind trying to expose the atrocities of Mormonism. His last publication was entitled:
"WILLIAM SMITH ON MORMONISM. This book contains a true account of the ORIGIN OF THE BOOK OF MORMON. A SKETCH OF THE HISTORY, EXPERIENCE, AND MINISTRY OF ELDER WILLIAM SMITH. THE STORY OF THE GOLDEN PLATES FROM WHICH THE BOOK OF MORMON WAS TRANSLATED. An Account of the Angel's Visit to Joseph Smith, BY WHICH MEANS THE ANCIENT NEPHITE RECORDS WERE FOUND AND BY HIM TRANSLATED. AN ACCOUNT OF A MOST EXTRAORDINARY MIRACLE, WROUGHT BY THE LAYING ON OF HANDS OF THE ELDERS OF THE CHURCH, AND A STATEMENT OF THE PRINCIPLES AND DOCTRINES, AS BELIEVED AND TAUGHT BY THE CHURCH OF JESUS CHRIST OF LATTER DAY SAINTS, WITH OTHER MATTERS OF GREAT INTEREST TO ALL BELIEVERS IN CHRISTIANITY," 1883.
NOT A MORMON
"On conclusion, permit me to say that I am not a Mormon. The treachery, corruption and murderous practices of the leaders of the Mormon Church long since disgusted me with a doctrine which produces such results, and as a matter of course I left the heaven-defying traitors, as every honest man should do, and leave the guilty wretches to suffer the fate which they so richly merit, and which is certain, sooner or later, to overtake them." (William Smith, "Mormonism," New York Tribune, May 28, 1857)
TREASON
"I will here remark also, that all the plans for this Mormon treason against the Government were laid in councils at Nauvoo previous to the expulsion of the saints from the State of Illinois -- an expulsion caused by the wicked doings of the corrupt Danite leaders, including robberies and murders. While the Mormons were yet at Nauvoo, Brigham Young took the incipient steps toward the organization of the Danite banditti, by administering to such Mormons as he could influence on oath that, from that time forward they would be the persistent enemies of the United States Government, and the Gentiles generally." (William Smith, "Mormonism," New York Tribune, May 28, 1857)
MURDER
"I have good reason for believing that my brother Samuel H. Smith, died of poison at Nauvoo, administered by order of Brigham Young and Willard Richards, only a few weeks subsequent to the unlawful murder of my other brothers, Joseph and Hiram Smith, while incarcerated in Carthage jail. Several other persons who were presumed to stand between Brigham Young and the accomplishment of his ambitions and wicked designs, mysteriously disappeared from Nauvoo about the same time, and have never been heard from since." (William Smith, "Mormonism," New York Tribune, May 28, 1857)
ROBBING & MURDER
"In regard to the designs of these Mormons to rob and plunder the California emigrants, and to commit certain depredations upon the General Government -- to hoax, fool, and to gull money out of them under various pretences. I testify that I have heard Mormons boast and talk of these designs in Nauvoo, previous to their leaving for the Salt Lake Valley, and have, also often heard Mormons talk openly of their designs in robbing the Gentiles and of putting to death dissenting Mormons; and that also, when they got among Indians, they would lead them on to the slaughter of the men, women and children of the American people. -- Suffice it to say, that in presenting to Congress my remonstrance to these views of Mormons at the time I have mentioned, I greatly endangered my life." (William Smith, "Mormonism," New York Tribune, May 28, 1857)
AGAINST POLYGAMY
"We believe that Marriage is ordained of God; and that the law of God provides for but one companion in wedlock, for either man or woman, except in cases where the contract of marriage is broken by death or transgression. Gen. 2:18, 21-24; 7:1, 7, 13. Prov. 5:15-21. Mal. 2:14, 15. Matt. 19:4-6. I Cor. 7:2. Heb. 13:4. D & C. 42:7; 49:3. We believe that the doctrines of a plurality and a community of wives are heresies, and are opposed to the law of God. Gen. 4:19, 23, 24; 7:9; 22:2, in connection Gal. 4th and 5th c. Gen. 21:8-10. Mal. 2:14, 15. Matt. 19:3-9. The BOOK OF MORMON says,
"Wherefore, my brethren, hear me, and hearken to the word of the Lord: For there shall not any man among you have save it be ONE WIFE, and concubines he shall have none, for I, the Lord God, delighteth in the chastity of women. And whoredoms are an abomination before me, saith the Lord of hosts."-- Jacob 2:6-9. (''William Smith on Mormonism'', p. 30)
OSTRACIZED
"William Smith's reputation has subsequently suffered one of two fates. Either he has been ignored, omitted from the list of patriarchs and treated as someone of little consequence, or he has been trotted out as a bad example - a modern Laman or Lemuel, 'the profligate brother' of the Prophet." (Irene M. Bates, "William Smith, 1811-93: Problematic Patriarch," Dialogue], vol. 16, no. 2, Summer 1983, p. 12)
NOT MORE GRIEVOUS
"The Prophet pointed out that William's sins were no more grievous than those of David Patton, Orson Hyde, or William McLellin." (History of the Church', 2:301)
BRIGHAM YOUNG A NERO
"I will state unequivocally at the outset, that it is my firm and sincere conviction, that, since the murder of my two brothers, usurpation and anarchy, and spiritual wickedness in high places, have crept into the church, with the cognizance and acquiescence of those whose solemn duty it was to guardedly watch against such estate of things. Under the reign of one whom I may call a Pontius Pilate, under the reign I say of this B. Young, no greater tyranny ever existed since the days of Nero. He has no other justification than ignorance to cover the most cruel acts -- acts disgraceful to anyone bearing the stamp of humanity; and this being has associated around him, men, bound by oaths and covenants, who are reckless enough to commit almost any crime, or fulfill any command that their self-crowned "head" might give them." (William Smith, "A Proclamation," Warsaw Signal, vol. II, no. 32, October 29, 1845)
HYPOCRITES
"It was to allay the feeling that such reports might excite that I preached the notorious, so called, "spiritual wife" sermon, a discourse so modified however as to be perfectly consonant with my own feelings, and entirely unobjectionable to the pure principles of morality and religion. I had another object in this which was to '''expose to the light the principles of men who delighted to practice in private that which in public they strenuously deprecated."''' (William Smith, "A Proclamation," Warsaw Signal, vol. II, no. 32, October 29, 1845)
THE BOOK OF MORMON CONDEMNS SECRET COMBINATIONS
"Temples therefore reared up, and endowments given, by usurpers, or by a headless body, can be no other than imperfect. And is not probable, I would ask, that Temples, Nauvoo Houses and other buildings, however richly wrought and gorgeously and sumptuously furnished, such palaces may be reared up in wickedness, by means of cheating and defrauding the poor, by keeping up secret combinations for robbing and plundering the Gentiles -- a Gadiantan Band -- altogether contrary to the book of Mormon, how, I would ask, can it be expected that the Almighty will bless or suffer to prosper. How, I would ask, can it be expected that Divine endowments can be given in such houses, or that God will ever bless such a priesthood or such a people. (William Smith, "A Proclamation," Warsaw Signal, vol. II, no. 32, October 29, 1845)
BLASPHEMY
The impression that B. Young was the successor and had even more power than Joseph, that things prospered better, etc., etc., was spread about in all directions. -- And to complete this man's reign of power, there was adopted, as I have before alluded to, the system of spiritual wifery, which was entered into secretly: and directions given to John Taylor and others to proclaim on the stand that all saints should call on Brigham Young for counsel notwithstanding I was by right a counselor of the church. It was, my brethren, in this way, that the cords were drawn tighter and closer. Men's wives and daughters were secretly married at night-time to this Young, H. C. Kimball, William Richards, and others, and, in the dark night, were attending the secret lodges, until most of the "Seventies" were thus sealed and bound under a cloak of adopting children into their kingdoms. All these measures were profoundly secret, and the actors were bound to protect the noble fathers and lords. In addition to this every exertion was made to ordain every one in the shape of man, and induce them to join the "Seventies" and thus become adopted "Brighamites." As soon as they had been induced to take the step, they soon found a reason for being no longer Smithites. Still while all these iniquitous proceedings were going on, it was the common practice for these wicked plotters to boldly and blasphemously proclaim before people, in the presence, too of hundreds that have been "sealed up" to them, that such a doctrine was false, and he that practiced it was a scoundrel and the woman that admitted it no other than a harlot. I declare to you, my brethren, that I heard John Taylor proclaim this on one occasion, so vociferously as almost to turn him black in the face, while in a day or two afterwards he was seen sneaking through a garden, to get into a house by the back way to visit his "spiritual wives." (William Smith, "A Proclamation," Warsaw Signal, vol. II, no. 32, October 29, 1845)
REMONSTRANCE AGAINST DESERET
"By Mr. R. H. Stanton: The memorial of William Smith and other citizens of Covington, in the State of Kentucky, remonstrating against the admission of the Territory of Deseret as a State into the Union. Ordered, That said memorials be referred to the Committee on Territories." (William Smith, "Deseret. Remonstrance of William Smith, et al., of Covington, Kentucky, against the admission of Deseret into the Union," U.S. 31st Cong. 1st sess. House. Misc. Doc. No. 43, 1850, Dec. 31, 1849, p. 199, 1, 2 )
APPROVED TO PRINT REMONSTRANCE
"On motion of Mr. Richard H. Stanton, Ordered, That the memorial of citizens of Covington, Kentucky, remonstrating against the admission of Deseret into the Union, heretofore presented and referred to the Committee on the Territories, be printed." (Journal of the House of Representatives, vol. 45 Feb. 26, 1850, p. 609, 1 )
REMONSTRANCE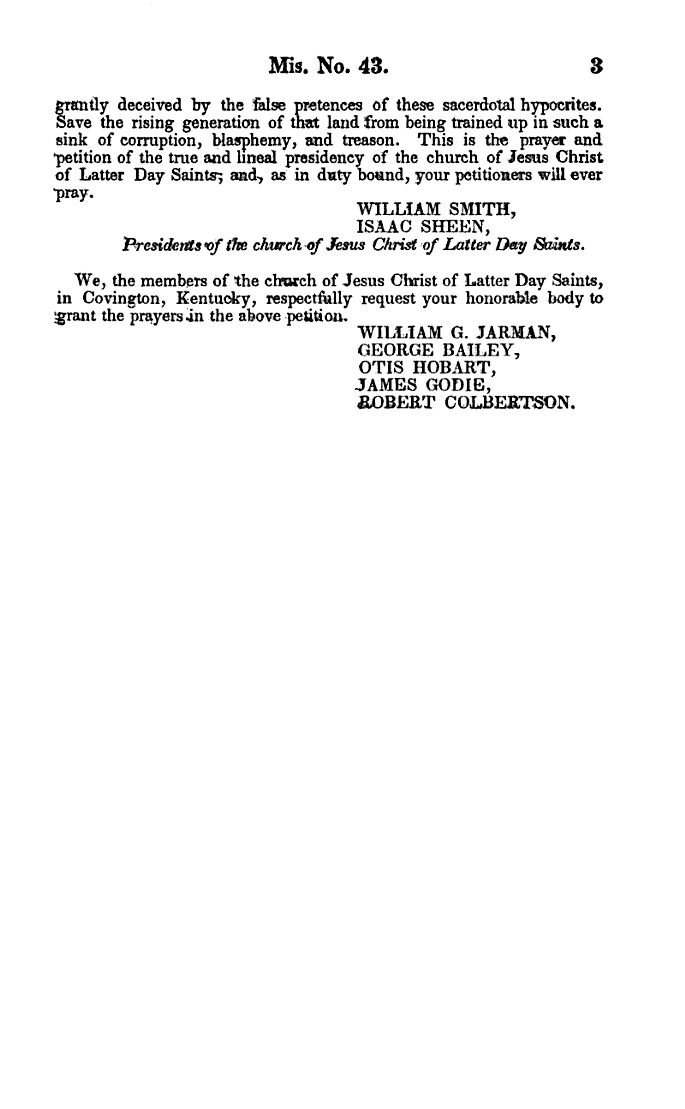 [MISCELLANEOUS DOCUMENTS, PRINTED BY ORDER OF THE HOUSE OF REPRESENTATIVES, DURING THE FIRST SESSION OF THE THIRTY-FIRST CONGRESS, BEGUN AND HELD AT THE CITY OF WASHINGTON, DECEMBER 3, 1849, IN TWO VOLUMES, 1850, Vol. 1, No. 43, pp. 1-3, 1]
Transcript
31st Congress, 1st Session. [HO. OF REPS.] MISCELLANEOUS, NO. 43.
DESERET.
REMONSTRANCE
of
WILLIAM SMITH ET AL., OF COVINGTON, KENTUCKY,
AGAINST THE
Admission of Deseret into the Union.
December 31, 1849.
Referred to the Committee on Territories, and ordered to be printed.
To the honorable House of Representatives of the United States of America in Congress assembled:
Your petitioners respectfully represent, that whereas efforts are now being made by the Salt Lake Mormons to obtain (by false representations and fallacious pretensions) from the government of the United States a State organization to be called the State of Deseret; and whereas we believe that it would be '''highly detrimental''' to the best interests of our country to comply with their request; we do therefore respectfully petition your honorable body to provide some other way for the government of the Salt Lake settlement. '''Your petitioners know most assuredly that Salt Lake Mormonism is diametrically in opposition to the pure principles of virtue, liberty, and equality, and that the rulers of the Salt Lake church are bitter and inveterate enemies to our government. They entertain treasonable designs against the liberties of American free-born sons and daughters of freedom.''' They have elected Brigham Young (who is the president of their church) to be the governor of the proposed State of Deseret. Their intention is to unite church and state; and whilst the political power of the Roman pontiff is passing away, this American tyrant is endeavoring to establish a new order of political popery in the recesses of the mountains of America. '''We have authentic information that more than 1,500 Salt Lake Mormons took the following oath in the temple of God at Nauvoo:'''
THE OATH
"You do solemnly swear in the presence of Almighty God, his holy angels, and these witnesses, that you will avenge the blood of Joseph Smith on this nation, and teach your children; and that you will from this time henceforth and forevever begin and carry out hostilities against this nation, and to keep the same intent a profound secret now and forever. So help you God."
We might mention the names of many individuals who have confessed publicly that the above oath was administered to these people. The rulers of the Salt Lake church hypocritically pretend to venerate the name and character of the Prophet Joseph Smith, that they may retain their popularity among that people who believe that he was a true prophet. These rulers are apostates from the true church of Jesus Christ of Latter Day Saints, which church Joseph Smith was president of. They teach and practise polygamy, and are thereby treating with the bonds of wedlock, placing themselves on a level with the brute creation.''' Surely your honorable body will not lend your aid to '''legalise adultery, fornication, incest, and all manner of wickedness. These men have left their country for their country's good. They have left it that they might escape the punishment which their crimes had invoked. They have been guilty of murders, treason, adultery, fornication, robbery, counterfeiting, swindling, blasphemy, and usurpation of power both political and ecclesiastical; and we would beseech your honorable body to send an armed force to bring them back from their hiding-place, that they may be legally tried for some of their offences.
Their governor, Brigham Young, openly declared, at various times, before large congregations, both in Nauvoo and at Council Bluffs, that those who went to California should toe the mark, (that is, obey him) or they should be circumcised across the throat. He hired men to assassinate the lawful president of the church, namely, William Smith, the brother of Joseph Smith, in order that he might with greater facility usurp the office of president of the church. He was foiled in various attempts to take away the life of the true and lineal successor in the presidency, who now has the privilege of informing your honorable body of the political intrigues and tyrannical designs of these wicked men. He has robbed and plundered President William Smith: entering into his house, he took even the last bed, his children's clothing, horses, wagons, &c, amounting to some eighteen hundred dollars worth of property. Brigham Young also swindled President William Smith out of a printing establishment, including press, types, &c, and real estate in the State of Ohio. He has also carried on a system of robbery and oppression towards the mother and widow of the Prophet Joseph Smith. This is the character of the man who is the political and ecclesiastical governor of the Salt Lake colony; this is the man who stated publicly in Nauvoo that none should live to come back from California to tell any tales; this is the man that told his followers that they should not do military duty for the United States, and afterwards sold 500 men unto the United States. He and his confederates swindled these men and their families out of their bounty money, and spent it in riotous living with their harlots. The cries of the widows and the fatherless are ascending up to Heaven day and night in consequence of the oppression of these men. The Salt Lake settlement is like Sodom and Gomorrah. Many of its inhabitants would rejoice if they could extricate themselves from the miseries, cruelties, oppression and degradation in which they are placed by the stratagems and deceit of these task-masters. Lend, lend your aid, O ye rulers of republican America! save the helpless females of the Salt Lake territory from a life of misery, degradation, and vice; many of them have been flagrantly deceived by the false pretences of these sacerdotal hypocrites. Save the rising generation of that land from being trained up in such a sink of corruption, blasphemy, and treason. This is the prayer and petition of the true and lineal presidency of the church of Jesus Christ of Latter Day Saints; and, as in duty bound, your petitioners will ever pray.
WILLIAM SMITH,
ISAAC SHEEN,
''Presidents of the church of Jesus Christ of Latter Day Saints.''
We, the members of the church of Jesus Christ of Latter Day Saints, in Covington, Kentucky, respectfully request your honorable body to grant the prayers in the above petition.
WILLIAM G. JARMAN,
GEORGE BAILEY,
OTIS HOBART,
JAMES GODIE,
ROBERT COLBERTSON.
[MISCELLANEOUS DOCUMENTS, PRINTED BY ORDER OF THE HOUSE OF REPRESENTATIVES, DURING THE FIRST SESSION OF THE THIRTY-FIRST CONGRESS, BEGUN AND HELD AT THE CITY OF WASHINGTON, DECEMBER 3, 1849, IN TWO VOLUMES, 1850, Vol. 1, No. 43, pp. 1-3, 1]
References
Kyle R. Walker, "William Smith," United by Faith: The Joseph Sr. and Lucy Mack Smith Family, ed. Kyle R. Walker, American Fork, UT: BYU Studies and Covenant Communications, Inc., 2006, pp. 246-307.
Irene M. Bates, "William B. Smith, 1811-1893: Problematic Patriarch," in John Sillito and Susan Staker, eds., Mormon Mavericks, Salt Lake City: Signature books, 2002, pp. 85-100.
Irene Bates and E. Gary Smith, Lost Legacy: The Mormon Office of Presiding Patriarch, Chicago: University of Illinois Press, 1996, pp. 72-103.
Paul M. Edwards, "William B. Smith: A Wart on the Ecclesiastical Tree," in Roger D Launius and Linda Thatcher, eds., Differing Visions: Dissenters in Mormon History, Chicago: University of Illinois Press, 1994, pp. 140-157.
Paul M. Edwards, "William B. Smith: The Persistent Gary 'Pretender'," Dialogue: A Journal of Mormon Thought, vol. 18, no. 2, Summer 1985, pp. 132-138.
E. Gary Smith, "The Patriarchal Crisis of 1845," Dialogue, 16, no. 2 (Summer 1983): 24-35.
Calvin P. Rudd, "William Smith: Brother of the Prophet Joseph Smith," Master's thesis, Brigham Young University, 1973.
Bringhurst, G. Newell and John C. Hamer eds. Scattering of the Saints: Schism within Mormonism, Independence: John Whitmer Books, 2007.